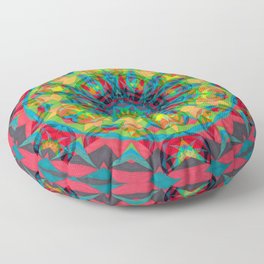 Visit the complete Floor Pillows Green Bee Mee Design Collection at Green Bee Mee S6 Floor Pillows  to see more grand floor pillow selections. There is a variety of color and style collections. Fruit and Charcoal Bliss, drawn and colored by hand with felt ink and colored pencils. The the design was spun in a digital circle to create the desired result. Bright and colorful with the soft color of hand painting instead of solid flat colors that result from digital fill.
Each image links to the original product page at Society 6, a place for creatives to share and earn while creating new and unique designs and art offerings.
The next floor Pillow offering – Contrast Red and Black Spinner. – hand drawn using colored pen, pencil and ink. Adding a proper digital spin makes charcoal like background surrounding the bold red, greens and purples.
Comfortable and overstuffed, these pillows come in two sizes, and select from the familiar solid square shape or the fun and 'tumbally' round shape. Society 6 designs their pillow products with soft and firm shape keeping construction. The printing is high quality so the design styling maintains color and detail. Tacked in the center prevents ripping. The product is 100% polyester.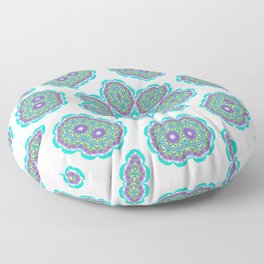 The next Green Bee Mee Floor Pillow Design offering is Circle Spinner in Aqua Deeps. This pillow was also created with pen and pencil using the same magic circle method, constructed with  golden ratio circle templates. Add digital spin for mirror and reflect the lacy purples and greens.
All the Green Bee Mee Design Offerings round pillow designs are found here. Browse, enjoy and share.
Each pillow image is a link to that product page, so click and view, browse and share to your heart's content.